Read through some of our happy  puppy owners testimonials
If you would like to submit us your testimonial. Please email us with your testimonial and a photo of your  puppy. We will then add it to our testimonials section. Thank you in advance.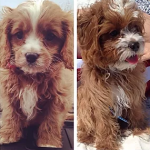 Erin Hartman Canada (Cavapoo)
Our little lady went to the vet this morning for her yearly check up and shots and she's doing so well! . She is such a smart little girl and the friendliest dog around 🙂 wanted to send you a few recent pictures. Hope you guys are well!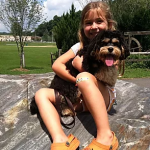 Samuels-Taylor family United States (Cavapoo)
Samba is the love of our lives! He is one of the best decisions we have ever made.We are so thankful for your breeding program and we want EVERYONE to know how wonderful it is to own a cavapoo from Hill Peak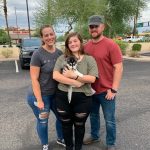 Sharon Pomsky Puppy Eira Birmingham UK United Kingdom
I want to say a massive thank you to you and your wonderful family members for the most amazing two
dogs we could have ever wished of owning. Jetson who is 1 year and 9 months is the most gentle boy
who loves everyone and socialises so amazing well with other dogs. Our new puppy Eira is so beautiful
and gentle we have only had her for 4 days and we are in love.
Your amazing customer service and advice has been invaluable to us and if there is anyone out
there thinking of getting a pomsky do not hesitate to Fetch from Home land Puppies
you will be well looked after and have the most amazing dog in your lives.
Thank you  again Denis and your beautiful family
Kind regards
Sharon and Christian Owens
Xxxxxxxx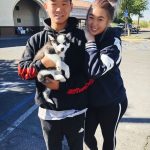 Sandra Pomsky Puppy Ookie France
I wanted to thank you for allowing us to adopt an adorable little puppy that we renamed OOKIE.
She fits perfectly she is happy, loving and so cute!
Very good dog breeder who answers all questions and very quickly! Denis helped us so much and
informed us that the adoption was done quickly and our little Ookie arrived so quickly at home!
I wanted to say that she is very well she is in great shape!
She learns well and does almost all her needs like a big one! She made the acquaintance of a friend's
dog it's a Dalmatian it was really funny to see.
She is happy and has adapted so well to us from day one that everyone thinks we've had her forever! Haha!
Huge thank you!
Love Sandra xxx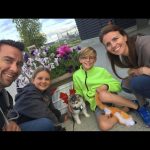 Samantha Pomsky Puppy United Kingdom
A happy bouncy well rounded confident puppy who is super smart as well.
He has settled in so well in the last 2 weeks like he's been here for years we truly couldn't not be without him.
He's also probably the easiest puppy I've ever had he's just so lad back and chilled.
I would a million percent recommend Home Land Puppies for a pomsky puppy.
Denis and his family are great! and answered all my questions within minutes of me messaging and was prompt with updates of my Leo.
So if you are wanting a pomsky puppy get one from Home Land Puppies you will not regret it.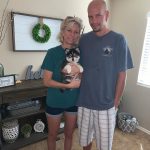 Carlyn Pomsky Puppy Scout Scotland
We would like to say a massive thank you to Home Land Puppies.
for our amazing little puppy Scout (formerly Larry). Denis was very helpful throughout the process and always available to answer questions and for support.
Scout is such a happy, well natured and confident puppy. He is very smart and quickly learned a lot of tricks as well toileting outside within the first couple of weeks.
He loves walks in the park and chasing leaves and as well as enjoying all the attention he gets from people on walks. He is super friendly and has a lovely nature with other dogs as well as adults and children. He has settled in perfectly and we could not imagine our lives without him now. ??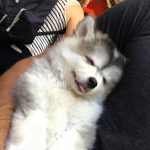 Pomsky Everlyn San Francisco
We would like to thank you for our stunning puppy Cara (previously Everlyn).
We have had Cara for three months now, and she has become the perfect addition to our family!
She loves people and other dogs, she's gentle, cute, playful and she's great around kids.
We can't take for a walk without people telling us how cute she is!
We love her so much, and we are truly grateful for all the help and great service William and his team have provided us.
We'd recommend Home Land Puppies to everyone who wants a pomsky.
Victoria & Magnus!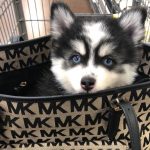 Paul Pomsky Puppy Mika United States
Hi there sorry i havent got back to you sooner.
Mika is settled in great previously named Flora.
We are very happy with her.
She loves her toys and going walks she is just perfect.
She catches everyones attention.
I would highly home land puppies to anyone looking for a beautiful pomsky.
Thank you so much again and we will keep in touch .
From paul and Cheryl xxx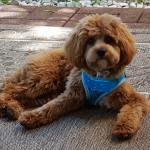 I swear he was sent from Heaven. He is soooo good. He is the talk of the neighborhood.
You should be proud. You make a lot of families happy 🙂
Bill Brinker
Pennsylvania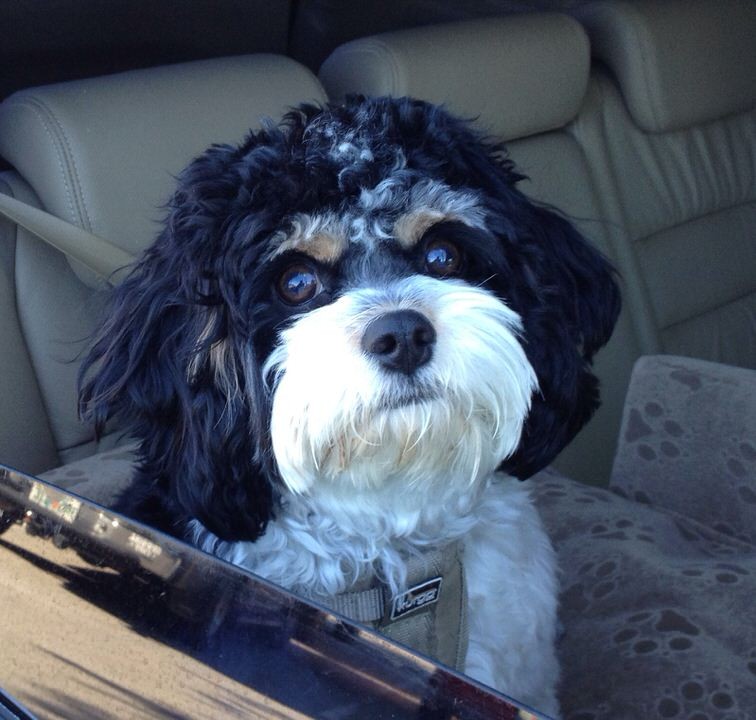 Love this post……everyone should know what a great job you do with these beautiful puppies and how blessed we are to be their puppy parents.
You are the best!
Sharon